May 11-12, 2019
AIKIDO: SELF-DEFENSE & WEAPONS


With more than 44 years of Aikido history, Georgios Koliopoulos Sensei is one of the ancestors of Aikido. His way has been starting 1974 at the Chicago Ki- Aikido Society under Master Koichi Tohei (Shin-Shin-Tōitsu Aikidō). His teacher was Fumio Toyoda Shihan, with whom he developed a very close relationship for over 25 years. Since 1994 he is a member of the Aikikai and works closely with the Hombu Dojo.
"Keep it simple!", "Cut the crap!" And "You only have to do this!" express his aikido. The path is the unfussy essential of "working relaxed, centered and precisely flowing in timing and extension."
This weekend seminar is focused on 2 things: the very extensive weapons program of the Hellenic Aikido Aikikai (Buki-Waza with Jo, Tanto and Bokken) and Aikido for effective self-defense (which in the 70s in Chicago, well Sensei will tell You ...). And there is one other important thing: the breaks. Use the time to be in company with nice people, sofa surfing or a walk through the forests, the river Mindel or the lakes around the dojo. We're looking forward to have him and You here.



PROGRAM 2019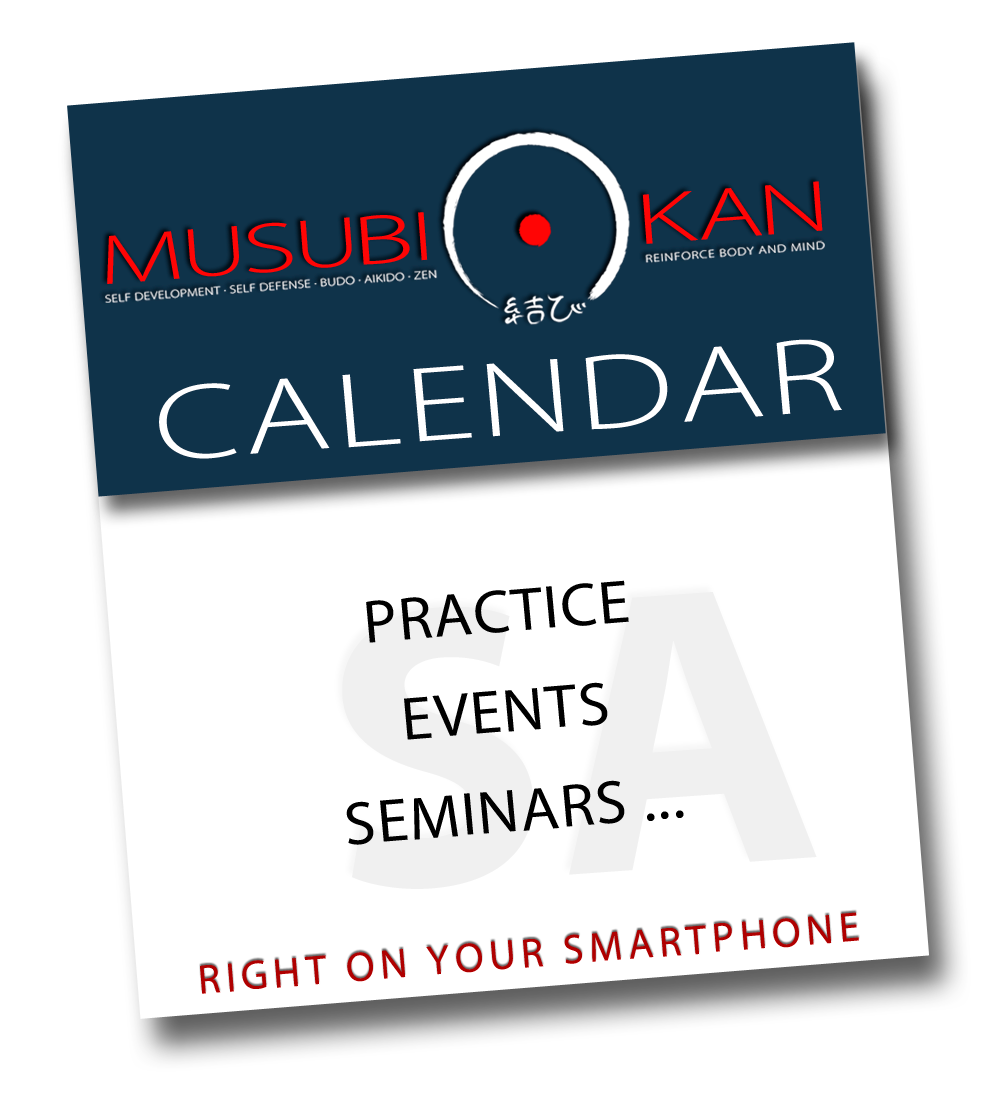 Stay tuned with the MUSUBIKAN calendar subscription (can be cancelled with one click).
---
APRIL
SAT+SUN 13.-14.04.2019 SOFIA (BG) INTERNAT. AIKIDO-WEEKEND-SEMINAR with Georgios KOLIOPOULOS SENSEI (6. Dan Aikikai, Head of Hellenic Aikido Aikikai) > further information
---
MAY
scheduled SELF DEFENSE COURSE FOR WOMEN: stance, presence, self-defense
SAT+SUN 11.-12.05.2019 INTERNAT. AIKIDO-WOCHENENDSEMINAR with Georgios KOLIOPOULOS SENSEI (6. Dan Aikikai, Head of Hellenic Aikido Aikikai) > further information
SUN 12.05.2019 vss. 14:00-15:00 UHR AIKIDO PRÜFUNGEN (H. A. A.) 7.-1.- Kyu
---
JUNE
SAT+SUN 01.-02.06.2019 ATHEN (GR) INTERNAT. AIKIDO-WEEKEND-SEMINAR with Bjørn-Eirik OLSEN SHIHAN (7. Dan Aikikai, Norwegian Aikido Federation)
SUN 02.06.2019 ATHEN (GR) INTERNAT. AIKIDO DAN GRADINGS (H. A. A.)
---
JULY
SAT 13.07.2019 MUSUBIKAN SUMMER-BBQ
WED 24.07.2019 18:00-19:00 AIKIDO GRADINGS (H. A. A.) 10.-1. Kyu
---
AUGUST
-
---
SEPTEMBER
SAT+SUN 27-28.09.2019 INTERNAT. AIKIDO-WEEKEND-SEMINAR with Georgios KOLIOPOULOS SENSEI (6. Dan Aikikai, Head of Hellenic Aikido Aikikai)
SUN 28.09.2019 expected to be from 14:00-15:00 AIKIDO GRADINGS (H. A. A.) 7.-1.- Kyu
---
OCTOBER
SUN XX.10.2019 ATHEN (GR) INTERNAT. AIKIDO DAN GRADINGS (H. A. A.)
---
NOVEMBER
---
DECEMBER
FRI 13.12.2019 19:00 UHR X-MAS-CANDLELIGHT-KEIKO
THU 19.12.2019 19:30 UHR AIKIDOZENTRUM ULM X-MAS-KEIKO
FRI 20.12.2019 18:30-19:30 UHR AIKIDO GRADINGS (H. A. A.) 10.-1. Kyu

---
PROGRAM 2020
---
JANUARY
WED 01.01.2020 14:00 TRADITIONAL MUSUBIKAN MISOGI ON NEW YEARS DAY IN THE RIVER MINDEL